August - September 2019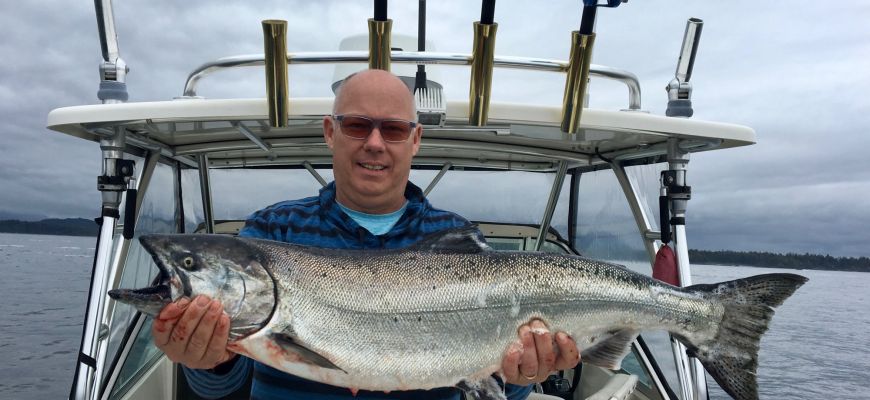 August is historically
one of the best times to fish on the west coast of Vancouver Island as it is during this time that large runs of Chinook and Coho salmon returning to west coast rivers slow their migration to gorge on the plentiful bait present on the continental shelf and inshore waters near Tofino. Chinook salmon fishing typically reaches its peak during mid to late August. We have a variety of fishing locations that can turn on this time of year including Wilf Rock and Lenard Island, both about a ten minute boat ride from the Tofino Harbour. Coho can be targeted on conventional troll gear as well as on the fly rod using 'bucktail flies'. We often have excellent salmon fishing options right until mid to late September. Coho typically stay in the saltwater a month or more after the Chinook have moved into the rivers to spawn. This year we are expecting an even better run of West coast Vancouver Island hatchery Chinook than we had last year. An exciting prospect considering how good fishing was last August and September in our area.
As always bottom fishing for Halibut, Lingcod and Rockfish will be available, we often see a pick up in bottom fishing action come September as fish increase feeding activity prior to the winter.
As I write this report in late July the Tuna season
is just starting to shape up. Satellite imagery is showing warm, low chlorophyll 'Blue water' pushing up into the canyons off Tofino British Columbia and the first reports of Tuna in Canadian waters are just starting to roll in from fishing zones down on the US boarder. Currently we have some great dates available during the last week of August and September, If you are interest please email or give me a call to discuss our Tuna option.
Lochie MacKenzie
owner/head guide
info@tofinofishguides.com
250.266.0587
---
Past Tofino Fishing Reports