Saltwater Flyfishing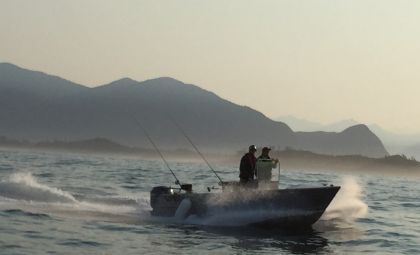 Our inshore program
offers anglers the
opportunity to fly fish and or troll for salmon in Clayoquot Sound, just north of Tofino
.
Our safe, well built 20' Lifetimer aluminum center consol is a great vessel from which to enjoy the scenery and wildlife while fishing the edge of one of the many kelp forests
or shallow sand bars within the sound. The vessel is equip with power downriggers and salmon trolling gear as well as fly rods giving anglers a variety of options to target Chinook and Coho salmon
.


Fly fishing
---
There's no style of fishing quite as exciting as surface fishing. Trolling bucktail flies 15-20 feet behind the boat on a eight weight rod is a exciting way to target Coho Salmon. Coho can also be caught on the cast fly when the conditions are right. Lessons in fly-fishing techniques and casting can be incorporated into the day.

Fly-fishing rates below apply to our 20' centre console. Fly fishing charters are available on the "Red Sky". Please see Offshore rates.
Half day
5 hours

Full day
8 hours
1-2 People
$675
$995
3 People
$750
$1050

NO FUEL SURCHARGE
We accept Visa, MasterCard and American Express.
Government sales tax (GST), personal fishing license, optional gratuity not included
We encourage a 1% donation to match Tofino Fish Guides in contributing to the Tofino Charter Fishing Fleet - 1% for the fish campaign. All contributions go to the Tofino Salmon Enhancement Society - Please let us know if you would prefer to opt out.
Prices in Canadian dollars
Rods and flies included
The bucktail fly trolls along just below the surface only a few pulls of line behind the boat. Suddenly, from the depths, a Coho salmon lunges at the fly. The Coho smacks the fly, its upper jaw breaking the surface but it doesn't hook up… An instant later, a second larger Coho comes in from the side, engulfs the fly, and cartwheels along the surface away from the boat as the reel comes alive in your hand…