May - June 2017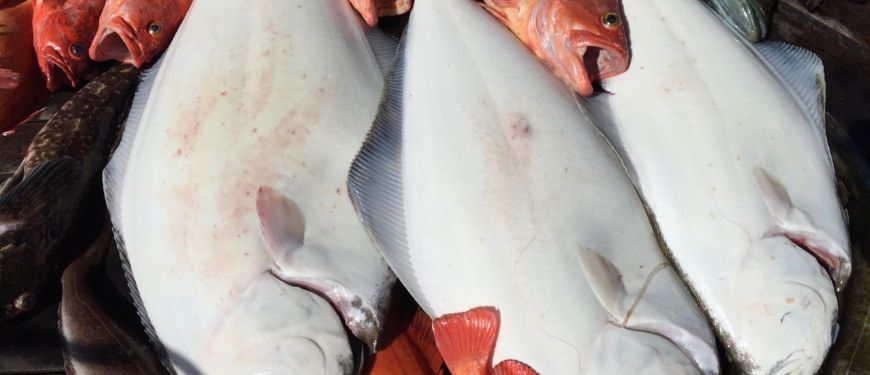 Take advantage of the early summer season
this year. Salmon begin running past Tofino in numbers during April, often pausing their migration to feed on the plentiful needle fish and herring on the banks of the continental shelf. Many of the Chinook (Kings) that we encounter during the spring and early summer are on route to the Columbia River. These fish are in great shape as they feed their way down the coast ensuring that they are of the highest quality. Trilogy Fish Company, located at our dock, can prepare your fish for transport making the process of bringing fresh seafood home a breeze.
As spring unfolds the halibut begin to settle after their migration from the depths where they spend the winter. May and June are my favourite months to set up for halibut as chances of coming upon a school that has yet to be fished is high and results are often exceptional.
As we head west from Tofino we find ourselves in some of the best bottom fishing territory on the South Coast of British Columbia. Out migration from a large Rockfish Conservation Area closure around Estevan Point helps ensure that the fishing in the adjacent waters remains top notch. Lingcod reopen at the beginning of April and coupled with Rockfish and Halibut can comprise a productive day of bottom fishing.
Accommodations are wide-ranging in Tofino including luxury hotels and numerous vacation rentals with all the comforts of home.
Have a look at our accommodation packages
, we have some great spring rates on trips including two full day charters and three nights at the Ocean Village Resort.
Tofino Fish Guides Home page
Hope to see you in Tofino this spring,
Lochie MacKenzie
Owner/ Head guide
Lochie@tofinofishguides.com
250.266.0587
---
Past Tofino Fishing Reports